celduc relais offers a large range of standard or specific level sensors using Reed switches.
Our sensors are available in plastic, brass or stainless steel housing, making it possible to use them with various chemical substances and/or operating temperatures.
For specific applications (e.g. potentiometric scale, special level sensors) do not hesitate to contact us : products can be developed on request.
Working principle:
A float fitted with one or more magnets moves with the liquid and actuates, due to its magnetic field, a hermetically sealed reed contact located in the body of the float.
Advantages:
– One moving part
– The Reed contact is actuated by a magnetic field only : no contact so no wear
– The Reed contact is completely isolated from the liquid so perfectly waterproof
– The above advantages allow a safety use, repetitiveness, precision and minimum maintenance.
Click on pictures for more information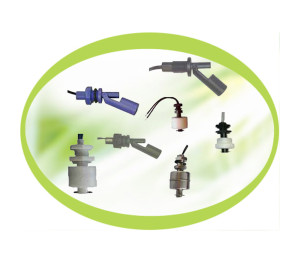 celduc relais offers a range of magnetic flow sensors.
Use celduc's flow sensors to ensure minimum flows to your systems!
– 1 open contact (A form) 250Vpeak – 100VA – 1A
– No flow, contact is open / Flow, contact is closed
– Two paddle lengths are available (57 or 77mm).
Typical application:
– To supervise the flow rate in water treatment systems or swimming pool heaters (to indicate a failure or loss of capacity of the dosing pump.) – To ensure that the device is energized when a known volume flow is present in heat-pumps or electric heaters
Main advantage:
Unlike a pressure switch which can be tricked into giving a yes signal in situations such as a down-stream valve being closed, a flow switch is not affected by pressure and only responds when flow is present.
Click on pictures for more information