Our complete range - Temperature controller, current monitor and FieldBus communication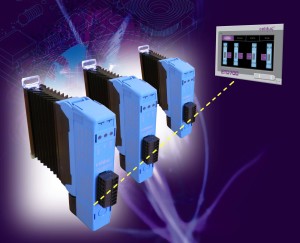 ECOM : Temperature controller, current monitor and communication interface in one unit (option available for the celpac 2G range SU SUL)
The solution for space reduction and wiring simplification !
ECOM est la solution la plus compacte du marché qui intègre la dernière technologie de mesure et de contrôle. Clipsable sur la gamme celpac® SU et SUL, cette solution est la réponse aux besoins de réduction des coûts de câblage et de la taille des armoires électriques.
The ECOM is the most compact solution available on the market that incorporates the latest measuring and control technology. Pluggable on a celduc® relais SSR type SU and SUL, it can answer the needs of cost reduction of electrical cabinets (smaller), PLC (less analogue and digital I/O's) and wiring (bus communication).
Temperature controller with thermocouple input, loop and heater break alarms, heating and cooling PID autotuning …
Current monitoring and alarms up to 50A with current transformer (CT)
RS485 communication with MODBUS RTU (others on request)
J, K, T, E thermocouples
Auxiliary output for cooling, alarm or 3 phase application control

The control accuracy can fit requirements of various application fields like extrusion or injection plastic moulding, packaging, drying ovens, glass tempering furnaces, semiconductor industry ovens and dryers, reflow soldering machines, cooking ovens, ….
| Reference | Max. switching current | Max. switching voltage | Control voltage | Specifications | Range | Standards |
| --- | --- | --- | --- | --- | --- | --- |
| ECOM0010 | | | | Temperature controller | ECOM | CE |