News-Blog - Single phase Softstarter
An innovative Single Phase Softstarter that limits peak energy demand !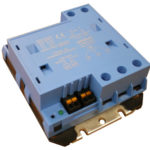 We are pleased to introduce our new single phase softstarter SYMC that smoothly starts up motors, improving in this way the life time of mechanical elements of the system (no shock). It reduces as well starting current in order to limit peak energy demand.
This new device is engineered to the highest quality and is designed especially for single phase motors 32A/230Vac with starting capacitor (e.g. compressor for heat pumps or refrigerating chambers).
Developed by celduc® relais R&D team at Sorbiers, in France, this new product shows once again the commitment at celduc® relais in innovation and technical excellence.
This new device comes in a housing that easily fits in the small space available in equipment enclosures, and is supplied fitted with a Din rail adapter.
Only solid state technology is used for switching capacitors and motor, unlike almost all products from competition one can find on the market. This allows longer life-time expectancy.
Main technical advantages:
–Starting current limited to 45A : in domestic applications this softstarter avoids financial penalties from electricity board and allows, in France, to be in compliance with NFC15-100 regarding starting current limitation.
–Over-load motor protection
–Diagnostic information: in case of abnormal motor current or mains voltage, or if internal malfunction occurs. A green LED is used for both control status and alarm indication.
-Thyristor based softstarter and control made by microprocessor: efficiency & performances
–Starting and running capacitor: External and not supplied. This allows the manufacturer to use reliable and high quality capacitors, to also replace them easily when required. Dedicated connections ease the wiring.
–Made in France and designed in compliance with EN60947-4-2