News-Blog - Sensor for window frames
Mounting & wiring times much shorter !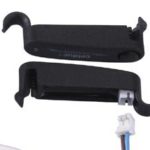 This new range has been developed to detect position of the window : open or closed (supervising of openings).
Typical applications are alarm, heating, air-conditioning  systems
Main advantages are :
-Save time for mounting and wiring : pluggable connector , product to be clipped (no fixing screws anymore)
-Normally open (NO), normally closed (NC), change-over contact, safety current loop
-Water-proof contact
celduc® relais  can offer a solution for any type of frame material : aluminium, plastic or wood  (for steel please consult us) and for any type of window : french window, hopper window, sliding window, awning window.