News-Blog - IGBT based DC SSR
At celduc®relais, DC power switching under control !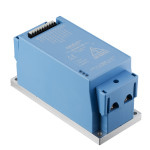 In 2015 we have introduced our new IGBT based SDI0501700 SSR which can switch 50 A @ 750 VDC nominal in a fast, reliable and safe way.
In every situation, safety operation is preserved :
Built-in over-voltage protection for inductive DC supply lines,
Built-in load short circuit protection : by detection of IGBT saturation, short circuits on the load will block the unit, keeping it safe,
Built-in over load temperature protection : over-heating should occur, the unit will automatically switch off.
The SDI SSR is definitely designed for the most demanding DC power switching applications, the unit that the railway companies, on rolling stock or infrastructure, have expected for years !
See –SDI0501700
See –SDI0501710