News-Blog - New diagnostic solution
New diagnostic solution at celduc®relais : the SOI series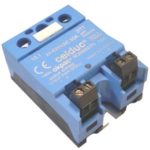 celduc® relais has just launched a new power SSR with a current transformer (CT) built-in on the load side controlling a feedback status switch.
Applications:
Heating control used in thermoforming machines requires sometimes connection or disconnection of the heating zones depending on the pre-heating area (foil size). Standard diagnostic relays or systems would display an error upon such zone disconnections.
The SOI range power ON/OFF the load and simply gives the information about the load current flow, leaving the status interpretation to the user or the system.
Operations:
Applying/removing DC voltage on the control input of the SOI switches ON/OFF the output load current. When the load current is above the factory preset current threshold, the current transformer built in the SOI turns ON the feedback status switch. This switch therefore indicates the load current flow and allows the user or the system detecting correct or false operations:
-No SSR control + no current detection = Load not supplied
-SSR control + current detection = Load supplied
-SSR control + no current detection = Open circuit (Unused heating zones), heater broken, fuse or MCCB tripped
-No SSR control + current detection = SSR damaged (shorted)
Benefits:
-Reduction of wiring, saving cost and time
-Suppression of pass through CT wires
-Suppression of costly analog inputs for PLC
Characteristics:
-Standard okpac® package: can replace any hockey puck SSR
-High voltage 625Vac SSR with built-in voltage protection (suitable for all markets including Canada)
-Control of loads up to 40A AC51 (other models coming soon)
-Fully isolated Normally Open
-Detection of load current flowing above 0.8A (other values on request)
-This product is certified cUL and cURus 100kA
See –SOI885070